UniSkills School of Skill Development has conceptualised this thoughtfully for all the age groups. From Children to Parents, from K-12 Students to college going HigherEd Learners, from Teachers to Institutional Heads and from Corporate/Government employees to the managers and leaders.
Skill Camp is organised by UniSkills at the Kurukshetra campus and we give a call for registration a month before the start of the camp. Primarily aimed at the globally acknowledged 21st-century skills, this month long Skill Expedition has all that a successful personality and person needs today. From Communication Skills to Oratory Skills and from Internet Maturity to Leadership Skills, we offer a multitude of learning to the willing learners.
Skill Camp provides Skill Development in the following areas:
Communication Skills
Public Speaking
Anchoring
Spoken English
Leadership Skills
Motivational Sessions
Leadership Development Workshops
Social Media Smartness
Employability Enhancement
Clever Career Choice Workshops
Profile Making Training
Presentation Skills
Educational Technology
Creative Writing
Oratory Skills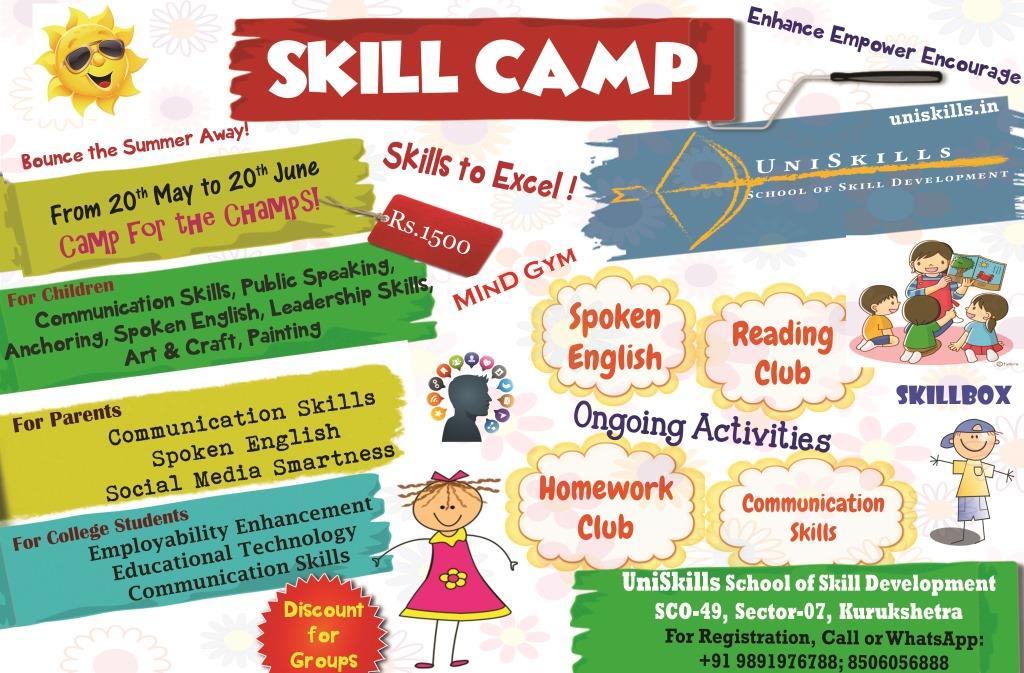 UniSkills Skill Camp is a regular event, organised each year from 20 May to 20 June. This is a sincere and well-planned alternative to the Summer Camps where children might not be able to accomplish the required 21st Century Skills. Besides, each child is not made to attend music or dance classes. Rhetoric and Communication Skills are the real skills needed and this Skill Camp ensures the beginning.
Skill Camp is perfected by its winter associate named as 'Skill Carnival' which works on the same objective of Communication Skills and Employability Enhancement. The extra provided in the non-summer season, Skill Carnival is the presence of events like Book Fairs, Literature Festival and Educational Workshops.
The initial amount has been fixed as 15, 00 (INR) for the foundational package selected by the learner. The charges for external resource persons, study material and other resources are included in the fee.
The advanced and expert level Skill Camp package is offered to the selected participants with a customised curriculum and activities pool designed by the UniSkills Mentors.